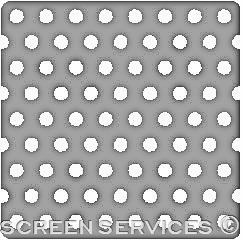 Punch plate is available in any thickness and material that sheet and plate is available in. The rule of thumb is that the hole size cannot be smaller than the material thickness. Open area ranges between about 30% and 40% are most common.
Standard sheet and plate size is 4' x 10'. Other sizes, and with custom borders can be manufactured.
Common hole sizes are 1/32", 1/16", 3/32", 1/8", 3/16", 1/4", 3/8" and 1/2", 3/4" and 1". Other hole sizes can be manufactured. Also available are decorative patterns.
Readily available sheet and plate thicknesses are 20ga, 16ga, 11ga, and 3/16", 1/4", and 3/8". Alternate thicknesses can be manufactured.
Common materials are mild steel, galvanized, stainless steel (304 and 316), and aluminum. Other materials, for instance AR plate, other corrosion-resistant alloys, polyurethane and rubber can also be manufactured.